IBF Talks 8 | Middle Asia: Opportunities and Threats
March 30, 2021
Central Asia stretches from the Caspian Sea in the west to China and Mongolia in the east, and from Afghanistan and Iran in the south to Russia in the north.
A huge and diverse area inhabited by more than 90 million people, what about its economic, commercial and business sectors?? To highlight the great potential of these countries, the International Business Forum held its eighth IBF Talks series, under the title "The Central Asian Market: Opportunities and Risks".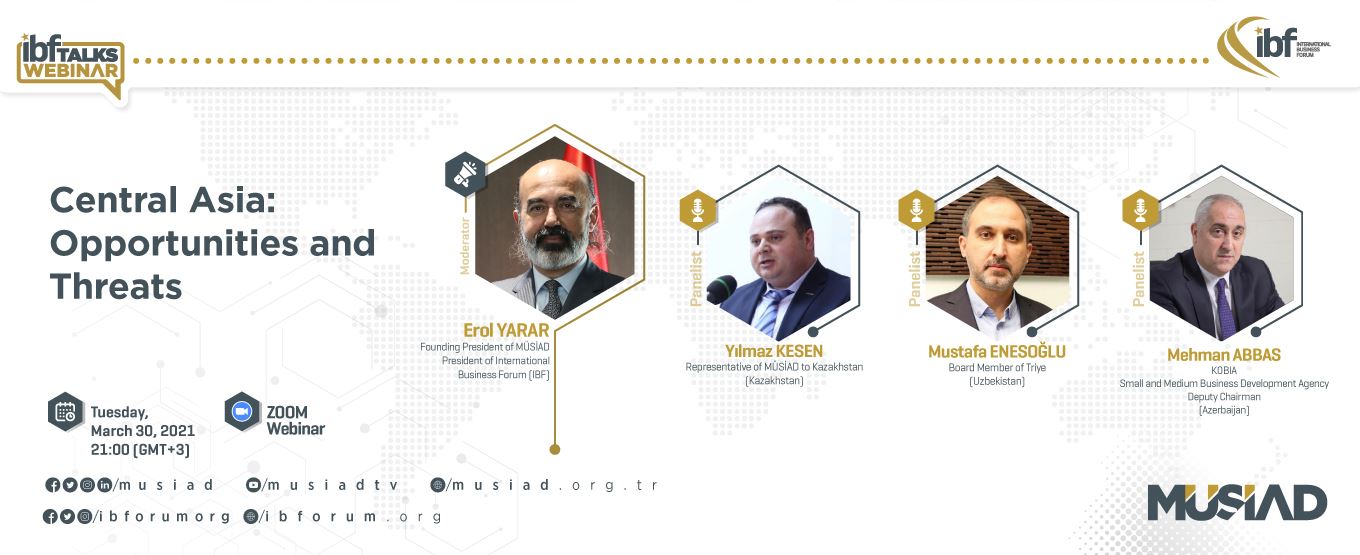 The wbinar was moderated by Mr. Erol Yarar; Founding President of MÜSİAD and President of International Business Forum (IBF), The guest speakers from Azerbaijan was Mr. Mehmet Abbas, Vice President of the Small and Medium Enterprises Development Agency (KOBIA), from Turkmenistan, Mustafa ENESOĞLU – Board Member of Triye, and Mr. Yilmaz Kesen from Kazakhstan, the Representative of MÜSİAD to Kazakhstan.
The wbinar lasted for two hours, in which each of the honorable professors presented what feeds the background of businessmen, and enhances their desire to trade with Central Asian countries, as, according to them, the capabilities available in those countries may not be available in other countries, and they stressed the need to seek expert advice In the country with which you want to trade, in order to ensure accuracy and credibility in obtaining information.
It is noteworthy that the wbinar was held in Turkish with simultaneous translation into Arabic, on the Zoom application, in addition to a live broadcast on MÜSİAD channel on YouTube. It is also worth noting that the webinar was followed up by 13 different countries, led by Turkey, Jordan, the United Arab Emirates, Algeria, Tunisia and Bosnia and Herzegovina.