IBF Talks 6 | Africa: Opportunities and Risks
Jan, 26 2021
Hosting highly-ranked ministers, ambassadors, and experts on international and diplomatic relations, the International Business Forum held its 6th Webinar in the IBF Talks series
A continent that includes 54 independent countries, and includes the largest trade area in the world and a consumer market of 1,2 billion people. It is also a continent that provides human and natural resources capable of achieving inclusive growth, as many of its countries have achieved great development and have become one of the fastest growing economies in the world. It is the continent of Africa; The second largest continent in the world by area and population.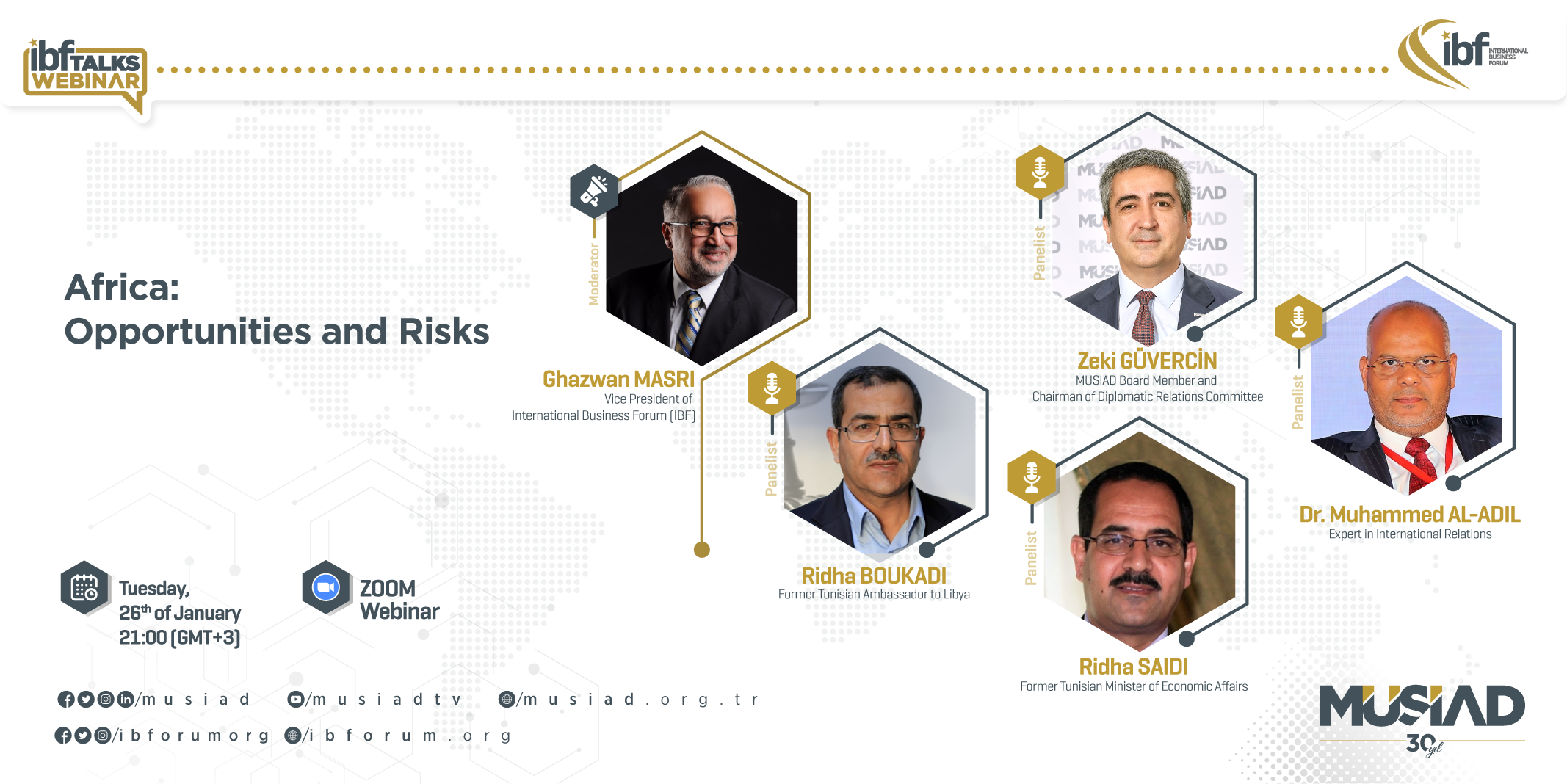 In view of the great importance that the continent poses in the region, and the great Turkish government orientation to joint work with it, the International Business Forum (IBF) decided to devote its sixth webinar in the IBF Talks webinar series, and the first of the year 2021, to talk about the African continent, where its webinar was titled: "Africa: Opportunities and Risks."

The Webinar was moderated by Mr. Gazi MISIRLI; the Vice President of the International Business Forum, and high-ranking personalities were hosted. The guest speakers were His Excellency Minister Ridha SAIDI; a Former Tunisian Minister of Economic Affairs, His Excellency Ambassador Ridha BOUKADİ; Former Ambassador of the Republic of Tunisia to Libya, Dr. Mohamed AL-ADEL; an Expert in International Relations, and Mr. Zaki GÜVERCİN; a MUSIAD Board Member and Chairman of Diplomatic Relations Committee.
The Webinar lasted for two hours, in which the panelists addressed the most important axes that constitute strengths and attractions for investment in Africa, as they emphasized that Africa today is the reservoir for global economic growth, as it has become seen as a strategic destination for most economic groups of many great countries, and that it distinguishes it. It is a young country, where the youth class makes up nearly 60% of the population.
Panelists also mentioned the main industries in Africa which are; Manufacture of food, textiles, metals, chemicals and fish. In addition, South Africa is responsible for making 84% of all cars in all of Africa.
And for the most important sectors that acquire the largest portion of foreign direct investment, as the panelists mentioned, they are: The oil, gas and coal sector, real estate and construction, the extractive industries in mining and minerals, in addition to the telecommunications sector, and the manufacturing industries are ranked last.
At the end of the Webinar, the panelists sent a message to all businessmen that they should not look at Africa with European eyes at all, and that they should rely completely on the region's experts and on the study centers in Africa when going to invest in Africa.
It is noteworthy that the Webinar, which was held in both Arabic and Turkish languages, achieved great interest and success, where the Webinar was followed by 315 followers on the Zoom app and 2800 followers on YouTube.