IBF Talks 7 | 5G and its Impact on Businesses: Opportunities and Threats
Feb 23, 2021
While the world is on the brink of a new era of technology, an era that will fundamentally change all businesses, what always comes to mind is where we and our business are from these developments and how we keep pace with them.
In line with the goal for which the IBF TALKS seminars are held, which is to feed the background of the members of the International Business Forum (IBF) from businessmen all over the world, and open new horizons for their business, talking about the fifth generation 5G was one of the priorities to dedicate a seminar to talk about it,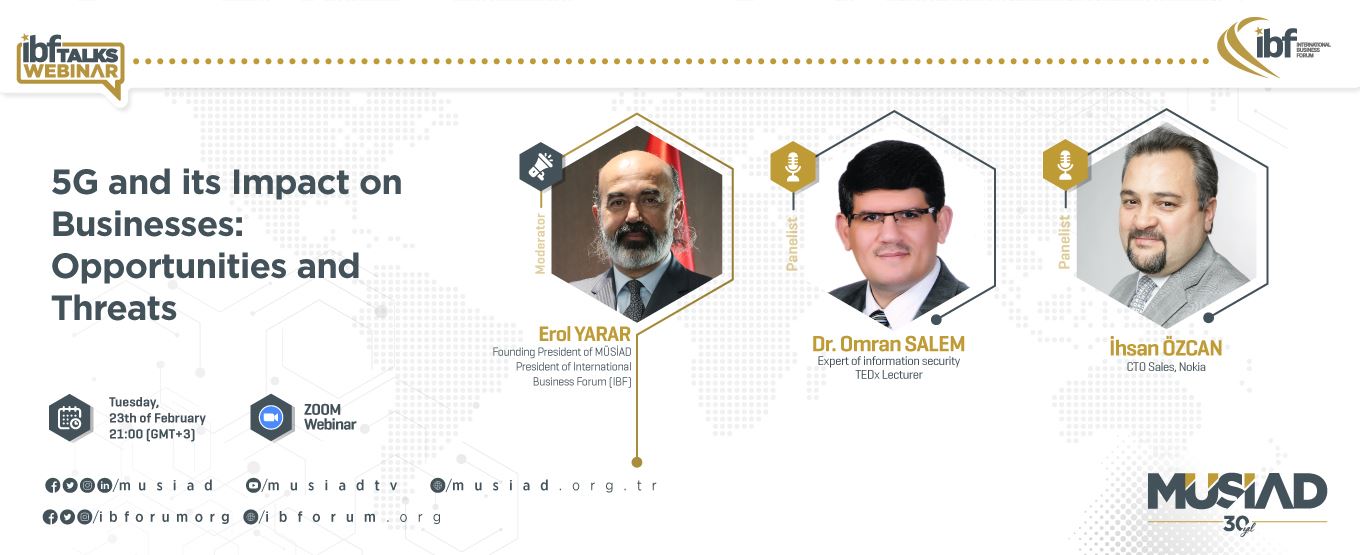 The title of the webinar was: "5G | A New Era in Business", moderated by Mr. Erol Yarar; Founding President of MÜSİAD and President of International Business Forum (IBF), The guest speakers were Dr. Omran Salem from Jordan; Expert of information security And TEDx Lecture, Mr. Ihsan Ozcan from Turkey; He is the Head of Technology and Sales Department at Nokia.
The webinar lasted for an hour and a half, in which several points were discussed, such as the expected performance that the fifth generation will achieve, the areas and sectors of application, security concerns, misinformation and the conspiracy theory that hovering around the word 5G, in addition to its impact on health and the validity of claims that say that the fifth generation will have an impact great negative for health,
Both speakers emphasized that the companies that refuse to switch to artificial intelligence and data analysis will end up similar to the companies that refused digital transformation, which led to their extinction over time.
However, they stressed the importance of taking the necessary and correct measures for information security because the fifth generation will allow hackers to access a huge amount of information about companies and individuals unless the information is properly protected.
At the end of the symposium, the two guest speakers sent a message to businessmen to prepare their companies and businesses in a way that supports the operation of the fifth generation feature in order to keep pace with the latest developments in the world of technology, thus protecting their businesses from extinction with time.
It is noteworthy that the symposium was held in Arabic and Turkish, and was followed up during the live broadcast by 2,000 businessmen from different countries of the world.